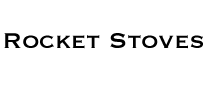 Download the .pdf
Rocket Mass Heaters
THIRD EDITION
$18.00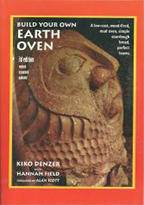 Build Your Own Earth Oven
by Kiko Denzer with Hannah Field Paperback 132 pages
$12 + $5 shipping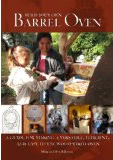 Welcome to the Web Site of the Book Rocket Mass Heaters: Superefficient Woodstoves YOU Can Build (and snuggle up to) by Ianto Evans and Leslie Jackson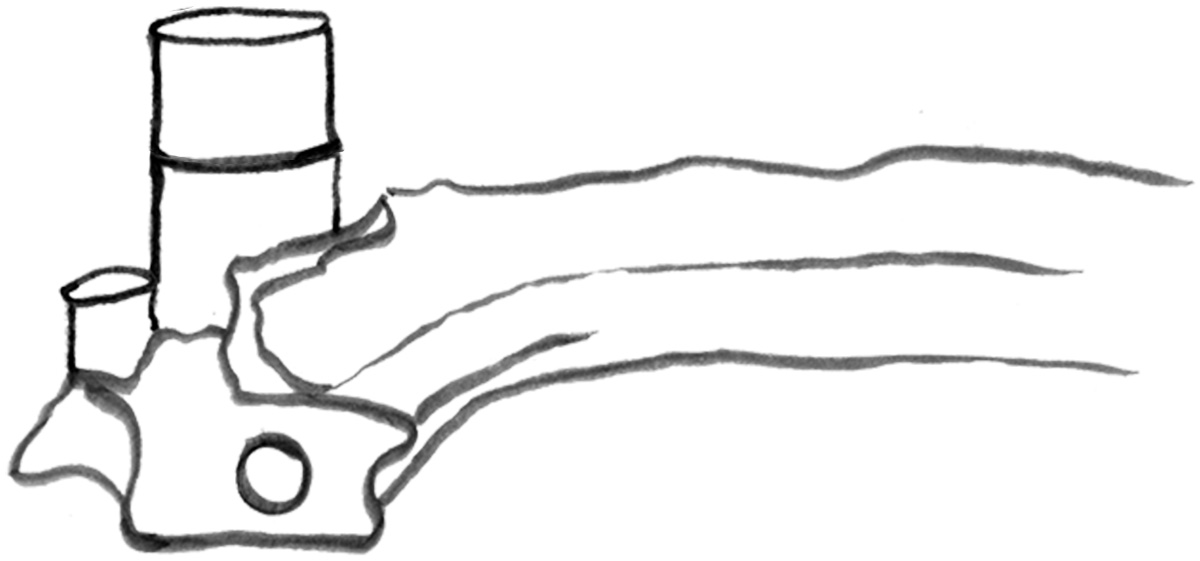 It's here at last, the Third Edition of Rocket Mass Heaters: Superefficient Woodstoves YOU Can Build (and snuggle up to)! Now in it's Tenth year of publication, this book STILL tells the story of the stove that is so popular--and has been tinkered with by so many brilliant stove builders--that it is called "The Ianto Stove."
With clear, delightful illustrations and practical, accessible instructions, the Third Edition contains Case Studies (in full color) by several stove builders who have been living with these stoves for several years, and who have been teaching the craft, an updated Safety chapter by Art Ludwig and Leslie Jackson, and improved construction instruction based on builder feedback.

There are three ways to have it:
Paperback: $20 plus shipping.


10th Anniversary Special
Download + Paperback:
$25 + shipping





Offer good 'til April 1, 2014
Third Edition Notes: This book was first published in 2004, under the title Rocket Stoves to Heat Cob Buildings. This Third Edition continues the story of Rocket Mass Heaters, with improvements in construction instruction from our experiences, as well as results of experiments by people who are building and tinkering with them.
Although these stoves can be built well with expensive industrial materials, Ianto says, "I'd like to address the people determined not to use a lot of money."
Rocket Mass Heaters are in a family of efficient wood-burning stoves called Rocket Stoves. What these various types of Rocket Stoves all have in common is that they burn small-diameter wood fuel in a high-temperature combustion chamber with an insulated internal chimney.
In this book, you'll find a basic recipe for building a Rocket Mass Heater. Why basic? Because your stove will be made to your local climate specifications, in your unique house, and with materials you source according to luck/whim/opportunity/dumpster-diving law, or if nothing else, money.
I'm stoked to be able to offer the wonderful masonry stove title Poêles à accumulation by Vital Bies and Marie Milési.
Filled with images and clear illustrations, one of the only French language books on masonry heaters. Covers the history and other kinds of mass stoves, the principles of heat transfer, wood heat, human comfort, efficiency art, and cratfsmanship. Explains operation and construction of a masonry stove for both the DIY builder as well as the customer. There's a section on Rocket Mass Heaters!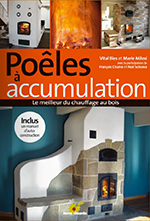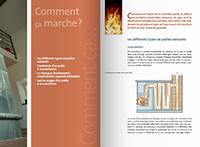 192 pages. Paperback. $40 + s/h. Published by Terre Vivant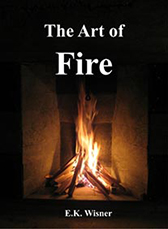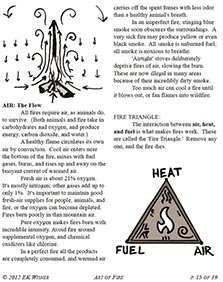 Erica Wisner has recently released this little gem of a book, The Art of Fire. A perfect companion for any wood-burning device user, especially useful beside the hearth to delight--and instruct-- about fire. It's wonderful.
Two versions are available both for download: A print-friendly version, for $9 and a web format version for $8. Enjoy!




WORKSHOP NEWS. The best way to learn how to build a rocket mass heater is to take a workshop. There's nothing like hands-on learning and the experience of builders who have done these before, and who live with these stoves. See the Resources section. If you are looking for one in your area, or would like to announce one, please

Contact us!
More about Rocket Mass Heaters the book:
This book is the second edition to Rocket Stoves to Heat Cob Buildings published by Cob Cottage Company. Drawings, descriptions and photos are improved and added to. It's more accessible we think, it's not rocket science, after all. This time, we provide more clear instruction on the brick assembly, the part of building a rocket stove that is all in the design, and mechanically somewhat baffling until you actually do it a few times. The case studies and color photos will get you thinking about the possibilities, and there are extended Troubleshooting and Question-and-Answer sections. The Glossary is still practically non-existent, testament to how simple this is.
There are some photographs that we couldn't fit in the book, but which may help in construction, especially of the brick burn chamber. These are found in pictures, and there are many more to come, as readers send incredible images of stoves they've been working on all over the world. Feel free to submit yours to us.
From the Introduction, by Ianto Evans:
"Here is a superefficient wood fired heater you can build for yourself in a weekend for less than a hundred dollars. This book explains in detail exactly how to build one, then how to use it in a range of applications.
We discuss materials: where to find them, what to pay and how to make use of found and recycled parts. The section on fire and fuels is thorough but simple; we tried to keep away from numbers wherever possible.
There are success stories, case studies, references and where to find further information, all heavily illustrated. Home heating can be expensive both in capital equipment and in running costs. If we heat by gas, oil or electricity we are supporting a big corporation and impoverishing ourselves.
The new woodstoves are no longer craftsman-made locally. When we buy them, we are paying a distant corporation which sometimes ships them in from Europe. Wood for heating usually supports the local economy and it is completely renewable energy.
By building an extra efficient heating system you will be one more big step off the treadmill and your move to self-sufficiency and true wealth. Good luck with your stove!"
This page was last modified on Fat Tuesday, March 4, 2014.