Conrado and Marina: How We Build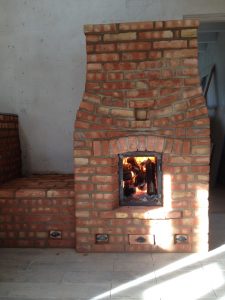 Conrado Tognetti translated Rocket Mass Heaters into Spanish — published in 2016). I asked him to offer up a story of his own practices…
I'm not sure what a newsletter actually is, but I would really like to share some of what we've been up to here in southern Patagonia.
We build stoves! We make a decent living building simple efficient Helbro-stoves.
Over the past 14 months we've built about 14 different Helbro-stoves. Mostly cookstoves, and a score of Gymse [Lars Helbro's design of masonry heater, named after a character in a Danish Fairy Tale] . We don't use working plans. We don't do 3-D designs or use computers. We use brick and clay mortar, and all the wit we can possibly gather about us. And we have a blast. And we work our hands and backs until we are sore.
Because stove-building is hard work.
We use the basic principles that Lars Helbro was so kind to teach us. How big or how small can a stove be? How wide should a channel or chamber be? How tall the burn chamber? Lars' answer to these questions would always be vague, and would usually start with "depends…" or even better:  "ask yourself why…" And then you can get yourself into a conversation with technical details on heat transfer and combustion that would leave a grad student in physics gaping.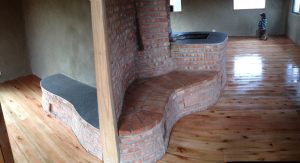 How did it come about that a Danish guy builds and teaches how to build stoves for the third world? This is the question that keeps coming back to us when we lay out a stove and begin the brickwork. For a Gymse, all you need is your hands, brick or rock and clay mortar; and a whole lot of ingenuity. Gymse works fine without a door, and can be combined with a cook-top. Any old Neanderthal counted with the means to build Gymse. And yet, at 92% -according to the Danish Technical Institute- she's world record holder in efficiency.
Efficient? Lars has spent many years conducting research on efficiency, and he teaches basic principles based on this research. In our case we don't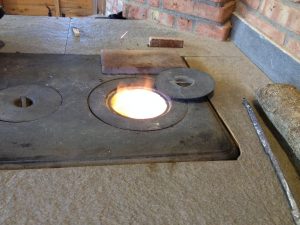 have the equipment to measure our stoves' efficiency, and given that each stove is unique and VERY different we cannot say that we follow a blueprint for a stove with an overall efficiency of, for example, 85%.
We have a different procedure: we build our stoves on the limit. With wood-fired stoves we basically measure the loss of energy because, unlike gas, for example, it's very difficult to know exactly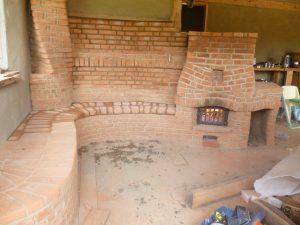 how much energy is going into the system. So we try to lose the least amount of energy through the chimney.
Our principle indicator is chimney temperature. We know –from gruesome experience- that if chimney temperature is too low then we can be very efficient in filling up a room with smoke. We also know –from not so gruesome experience- that if chimney temperature is too high, then our warm-bench won't get warm enough. So we design based on these experiences, and we usually leave room for improvement: access to key passages where we can tinker with chimney temperature.
And we try to make them beautiful.
We mostly recycle old cast-iron doors and cook-plates, and then we have a local blacksmith who puts together custom parts. This is the third world, for real, we may drive cars and use socks but there's no ordering a cast iron door on the internet. Forget it. This is figure it out yourself world.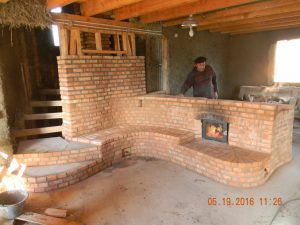 In our own house we built a cookstove with such recycled material. We cut a hole in the old cast iron door and put in a glass. The burn chamber doubles up as a bake oven. The 4-meter long bench heats two separate rooms plus the bathroom. We have a chimney thermometer, and it usually marks between 50 and 60 degrees centigrade (licking temperature –if we were to use Ianto's scale). During dark cold winter days and much firing it may hit 80 degrees centigrade. Temperature inside our home, of course is always more than pleasant.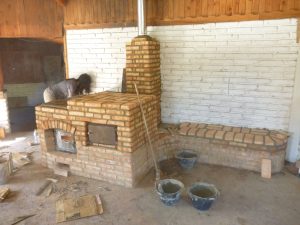 Our various clients are all happy.
It would be unfair to not talk about rocket stoves. Before building Helbro-stoves we used to build rocket mass heaters. At about the same rate: 12 or 15 per year, over a 5 year period. The interesting detail is that all the rocket mass heater-users are also happy. They love their stoves, and wouldn't change them for anything (I try to convince them, but to no avail).
Human beings are funny creatures.
Cheers! Conrado and Marina
The Cabin Stove, by Max Edleson, of Firespeaking.com
The Cabin Stove is a compact wood-burning stove for heating and cooking. It uses a mix of clean, efficient combustion, and heat exchange strategies, which provide both immediate heat via the cooktop as well stored heat through the channels inside the brick work. Effectively, it converts wood into warmth and good food. … See more.

Thanks for your interest in the book Rocket Mass Heaters, by Ianto Evans and Leslie Jackson. A Rocket Mass Heater is a wood-burning stove that uses Rocket Stove technology (of specific materials and geometry) to burn wood very efficiently and clean, and to then store the heat it produces in thermally massive furniture–the bed or couch you sit or lie down on.
In the book, we teach you how to think about wood burning, materials and geometry, so that you can build your own superefficient heater using your own skills and common sense, while spending very little money.
First published in 2004, this little manual has received a bit of attention, and has been in the hands of quite a few people. Ianto Evans is known for his seed-planting abilities (bringing us "cob," from Britain, the fava bean's glorious simplicity, and rocket stoves, to name a few).
I'm Ianto's co-author, Leslie Jackson, I self-published the book ten years ago, and I'm super-stoked to bring you this website's update, out of the cobwebs of it's html beginnings in 2004. With the site, I hope to help you navigate the growing world of Rocket Mass Heaters. I'll tell you about the book's history, share details about the authors and some of the major players who live with these stoves and had a hand in the book. I'll point you to some resources such as online forums and workshop instructors, help you decide if the stove is right for you, and steer you towards trustworthy sources of instructional videos, and other books. (Thanks to YouTube, there are some humdingers out there!)
Ten years after the publication of this book, the 'Rocket Mass Heater' has become a household term in the sustainability, homesteaders, and permaculture circles. Welcome to the party. Even if you don't end up building and living with a Rocket Mass Heater in your home, the experiments you can learn from, and the community of DIY woodburners you'll meet, will enlighten you to a form of energy long lost by us as modern folks. If nothing else, you'll build better campfires!
Details: 120 pages, paperback and digital download available. ISBN: 0966373847